I was actually able to solve my own problem before I came here, but I figured it might help some other folks if they were struggling to get their SSD1309 OLED connected correctly.
I initially bought the pod, but after seeing Carl's Olearia project I really wanted to mess around with an OLED screen, so I picked one up to test some things out with. Just a standard 7 pin, SPI configured SSD1309.
I tried to follow the directions in the "hid_oled_display.cpp" source file - but I wasn't getting any output - so I turned to the patch schematic and that got me sorted. I decided to make this little graphic so that I wouldn't have to puzzle over the schematic each time I hook up the OLED: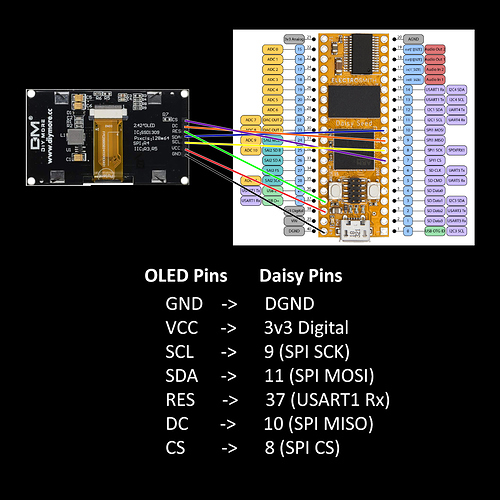 One note: The pin numbers are the BLACK pin numbers from the DaisyPinoutRev4 image NOT the blue shaded libdaisy pin numbers.
Hope that helps some noobs (like me!) get going with an OLED with either seed or pod!