For this week, we wanted to feature Daisy-powered pedals that were recently shared in the community!
Any Amp & Pedal You Want It To Be?

While having words "AI/ML" and "art" in the same sentence will guarantee to stir up heated arguments, hear me out on this one! What if you can use neural networks to emulate the sounds of your dream amps on a DIY pedal that costs around $100? Keith Bloemer (aka GuitarML & @keyth72) did just that with the new Neural Seed pedal project!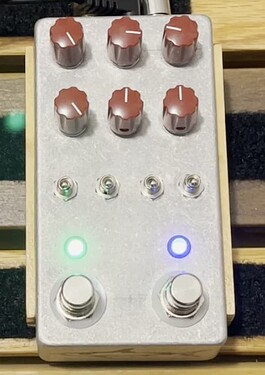 This is a Daisy Seed powered guitar pedal that uses neural nets to emulate real amps and pedals! This is similar to how products like NeuralDSP work, but Neural Seed is open source and DIY-friendly! Check out the GitHub repository here.
Here's how it works.
"Models are trained on audio recordings from your amp or pedal, and can be uploaded to the Daisy Seed as firmware. NeuralSeed includes several built in amp/pedal models, as well as controls for input/output level, wet/dry mix, and up to 3 parameterized knobs for the selected neural model. Effective for Amps/PreAmps (direct out, no cab), Distortion/Overdrive/Boost pedals (non-time based, no Reverb/Delay/Flange/Phaser)."
And the result sounds amazing! Neural Seed - A Daisy Seed Powered Neural Guitar Pedal - YouTube
It is intended for the Terrarium pedal (by PedalPCB), so you can try this out today if you have one!!
Maybe using machine learning for art ain't so bad after all when it's used to give more power to artists!!
New Pedal Platform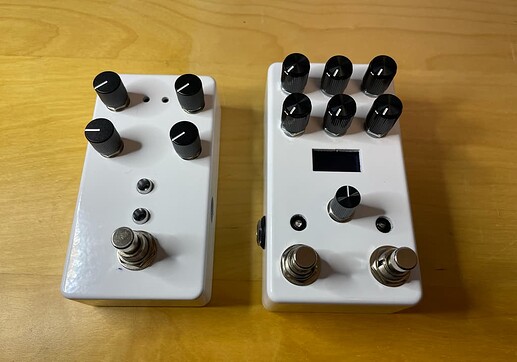 "This is cool but I wish it had this" is usually how amazing project ideas are born!
This pedal effect platform project began when @kshep wanted something like the PedalPCB Terrarium but in stereo. The first design was a small 1590B sized enclosure, which is more compact compared to the Terrarium. In addition, it has stereo in/out and midi in/out.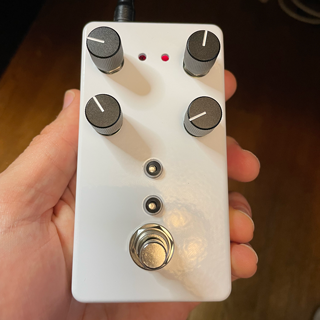 Another pedal was designed and this time the size is the same as the Terrarium, which is 125B. Another similarity in design is the 6 knobs and 2 foot switches. The differences are again the stereo in/out and midi in/out. In addition, a small OLED screen and a rotary encoder were added. These come in handy for creating menus and other configuration options! (By the way, the OLED screen that was used is this one which seems to be a community favorite! I personally used one too and it works great!! I'll most likely use it for future tutorials.) Another key feature is the relay based switching that allows for "true bypass" when the effect is not in use.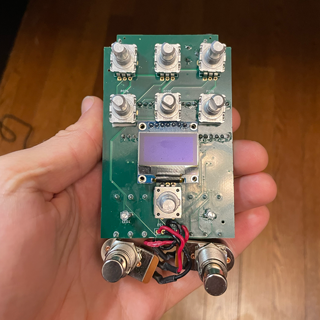 All of the designs are free and can be found on GitHub here: GitHub - bkshepherd/DaisySeedProjects: A collection of hardware and software projects based around the Electro-Smith Daisy Seed
kshep is looking for contributors to the project, so please feel free to join if you're interested in adding features that you wish existed!
Loops that Disintegrates

The idea of a musical system that plays along with the musician is always fascinating.
Iceland Spar by @justin23000 (aka Discomfort Designs) is a Daisy-powered looper pedal with a twist. Programmed in gen~, Iceland Spar is a dual looper where "looper 1" harmonizes, layers, and varies playback-speed. There is also the "Refract" feature, which causes the recorded loops to degrade and breakdown over time, reminiscent of William Basinski's The Disintegration Loops. Looper 2 chops the loop into pieces resulting in this unpredictable but musical glitch effects.
These features all result in a guitar pedal that you can get lost playing with for hours at a time…
This video demonstrates this pedal beautifully: Discomfort Designs Iceland Spar // - YouTube
---
Please let us know if you're currently working on a Daisy-powered pedal! Have a wonderful weekend, everyone!