The theme of this week is strings plucking! Let's get right into it!!
Lush Plucks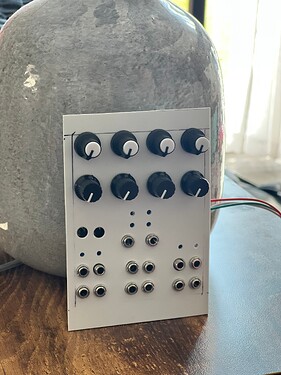 If you love the sound of physical modeled strings, you'll be excited about this modular synth!
The first community project of this week is Plinks by Daniel Lawler!
This Patch SM powered eurorack module is "a plucked string arpeggiator with modifiable speed for rich tone creation".
Plinks can quantize a pitch CV input into a midi note and creates an arpeggio scale out of it (4 modes of Major Pentad, Minor Pentad, Major Triad, and Minor Triad).
That arpeggio scale is then utilized to play a PolyPluck instance with 32 separate voices! And you can apply internal filter and reverb to create lush walls of sound!
And by lush, I mean, L U S H. Just listen to this module in action here.
This project is still a work in progress, but you can look at its code already on GitHub!
Daniel just told me that the board files will be posted in the next few days.
I'm excited to see this project develop further! Updates on Plinks is posted frequently on our Discord, so feel free to join and keep your eyes out on the patch-sm channel!
---
Dense Plucks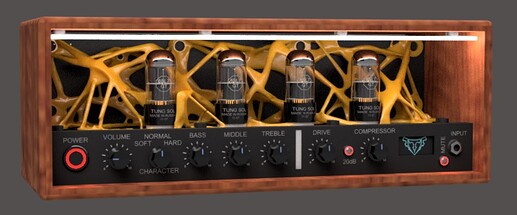 Metalheads are gonna be excited about this next project!
User Daniel_BASS made this tube bass amp! "Tube section consists of a typical (basically hi-fi) Alembic preamp and blended in with fixed ratio Diezel based high-gain preamp…"
It was designed to make a bass guitar sound DENSE!!
I'm a huge fan of that 3D printed bone design inside of the amp too. Gives the project a body-horror vibe.
Now you may be wondering, "this looks like a fully analog project. Where does Daisy come into play?"
If you look closely to the right, there's an OLED screen. Daisy Seed was utilized to power this as well as the internal compressor, reverb, and flanger effects!
This project sounds like a dream amp for post-metal bassists.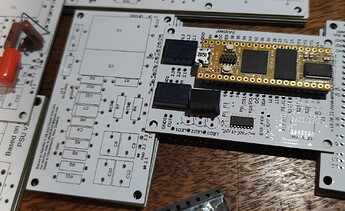 Looking forward to hearing this amp in action more!!
Read about the project in this forum post here.
Have a wonderful weekend everyone!!