Cordial greetings everyone, just thought i'd share the patch-version of my UGN-01 module. Hope you have fun~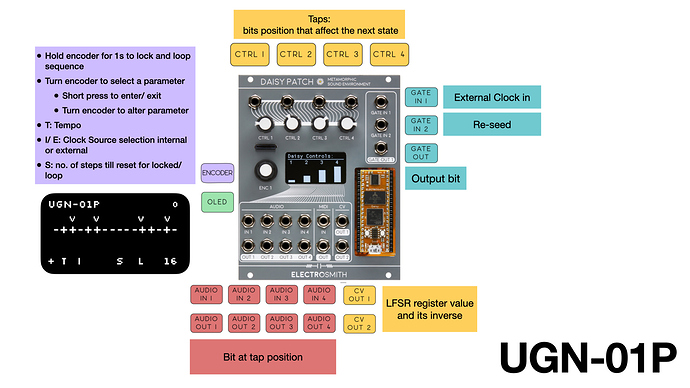 Description
high-playable parametric linear-feedback shift register.
The UGN-01P is a patch prototype of UGN-01 module. It is a unit generator for both organized and random control voltages and gates. It is operationally simple but contains extensive potential for expression.
UGN-01 exposes the inner workings of a linear-feedback shift register, providing parametric control to tap positions, clock rate, and seed to allow musical exploration and expression across the different time scales of music.
Controls
| Control | Description | Comment |
| --- | --- | --- |
| Ctrl 1 - 4 | CV Inputs | Tap position. Ctrl as scaler, offsets when there is CV input. |
| Gate In 1 | Ext Clock | External clock input. |
| Gate In 2 | Re/seed | Seed LFSR with new value. |
| Encoder | Menu Navigation | Turn to navigate, press to edit. |
| Gate Out | BIT OUT | LFSR shift bit gate out. |
| CV Out 1 - 2 | LFSR Register Outs | CV Output of LFSR register value and its NOT respectively |
| Audio Out 1 - 4 | Tap bit gate Output | Bit state at n-th tap. |