I tried to use "reverb.maxpat", but it didn't work well.
My environment is:
・Mac OS 11.6.1
・Max 8.1.3
・Daisy Pod
I've tried "Daisy Web Programmer" (Daisy Web Programmer) in order to check whether my Daisy pod and USB Cable are available (and succeeded).
Then, I tried "reverb.maxpat" by referring Youtube tutorial (https://www.youtube.com/watch?v=HTXhd8sdxp4).
I set: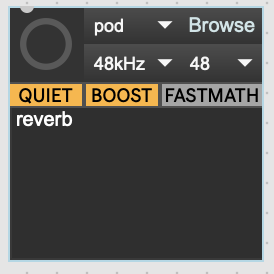 then clicked the button, but "compiling…" didn't start.
Please help me