Hi everyone, I'd like to introduce to you, the kxmx_nehcmeulb - An inverted kxmx_bluemchen.

It is essentially the same as the kxmx_bluemchen with a couple of important differences:
MIDI in now MIDI out
CV in is now CV out
Audio in is now both Audio in and CV in
…otherwise it's the same, oh and I inverted the panel colors to make it obvious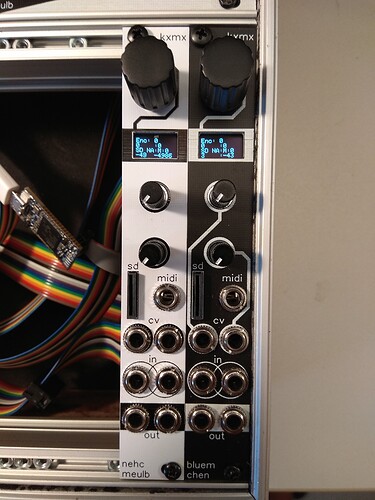 These changes don't affect the front PCB (or panel) at all, so if you already have a kxmx_bluemchen, you could just swap out the back PCB for this functionality.
The schematic and PCB layout are available here, and it's also on ModularGrid
I don't think I'll be doing any DIY kits unless there is significant interest, but feel free to get in touch if you'd like one, perhaps we can work something out.