I just finished assembling two of these, one is available. $100 (or $70 without Seed) shipped in US.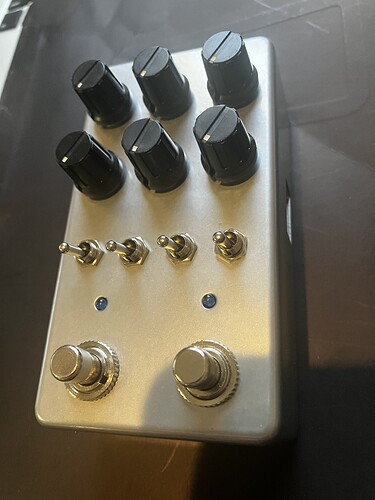 Hey! I'd be interested – out of curiosity, do you have some more photos? Wondering whether it has standalone power, USB access, MIDI i/o. Thanks!
All these details are on the PedalPCB site.
housed in a silver powder-coated box from Tayda
It has a standard 9v stomp box power input, no room in the case for a battery.
No MIDI
6 pots
4 toggle switches
2 momentary contact pushbutton stomp switches
2 LEDs
the Daisy Seed micro-USB port is accessible through a hole in the side, for programming
carefully assembled by a retired software engineer with tons of build experience.
That's a nice looking notch right there.
I overestimated the size of the hole when I ordered it from Tayda, but it works.
Hey! I would also be interested if the other deal falls through. Let me know!
It's still available, so message me and we'll do the deal!
Sounds great! Maybe I'm crazy but I can't find a way to direct message on here

Do you know where I click to send one?
Edit: they don't let new accounts PM, but now I just got access to that so I sent you one!
Connor , I received your payment, unit will ship on Monday, with Daisy installed ad programmed with an interesting delay. Plug and Play, before screwing around with programming!
Remember, this needs to be powered by a 9V, center negative, wall wart, or equivalent. In other words, stompbox power, NOT synth, which is often center positive. I'm not sure of the precise current requirement, but I've run it from the 100ma output of a cheap rechargeable power brick. For programming, you'll also need a micro-USB cable.
Cheers, have fun!
Hi,
Do you still have one of these available?