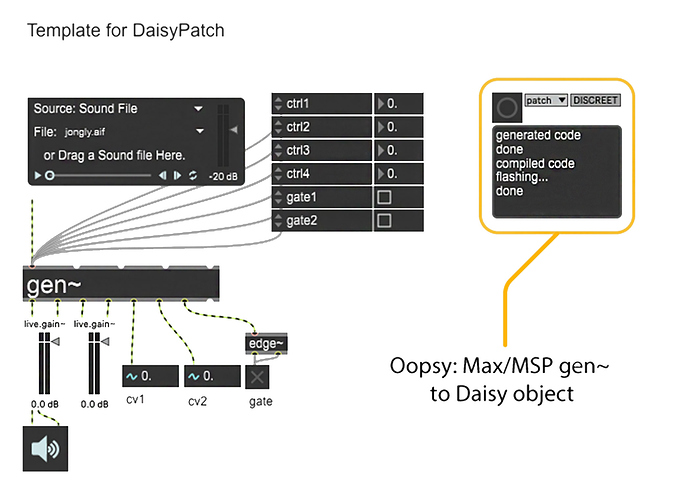 Hey Everyone!
We are proud to share that Max/MSP gen~ integration is here!
Dropping into open beta today, Oopsy will manage the code-generation, compilation, and programming of your Daisy board from within Max/MSP. Create a new gen~ patch from one of the platform-specific templates, or add an oopsy object to an existing patcher using gen~ and drop your patch onto the Daisy.
The interface allows for control over your patch from any of the breakout board's controls, as well as MIDI, LEDs, CV generation and more. Many of the breakout boards have sophisticated UIs for switching between multiple gen~ patchers within the same project, and for those using the Daisy Patch or Daisy Field you'll have access to multiple scope modes including the enchanting Lissajous mode.
This is an open beta. Which means we're looking to you, our amazing users, for feedback, which you can voice on the forum or on slack. For any developers out there, contributions are welcome, and we have a long list of upcoming plans to make this even more user-friendly, flexible, and enjoyable to work with.
The following breakout boards are supported right now, with custom boards and more third-party boards (like the Noise Engineering Versio) coming in the near future!
Daisy Pod
Daisy Patch
Daisy Petal
Daisy Field
Visit our new wiki page, for installation instructions and get patching today! Detailed usage can be found on the project's Github README.
Download Oopsy!