Hello,
I'm working on an internal daisy patch submodule based development platform (called DPT), and it came out pretty good so it occurred to me that it really could be useful to others. I wanted to drop a note about it here and then I can order more supplies + smt assembled boards if there is some interest. Can hit me up here or I'm on also Slack.
Basically, it accommodates all of the available pins on the submodule in contrast to patch.init(), so I can go sort of crazy for my own projects -
8 pots normalled to +5V.
8 CV in breaks normalled connection, then pot acts as an attenuator.
2 gate in
2 gate out
The standard stereo out.
2 12-bit CV out from Daisy Patch Submodule is scaled to -5v to 10v
4 12-bit CV (or lofi audio w/ some hacking) from external DAC (DAC7554), scaled to -7v to 7v.
TRS MIDI in/out (in is auto-sensing for type a/b)
SD card slot.
Has an expander header on the back for +5v, +3v3, SPI, UART, I2C, and USB connections.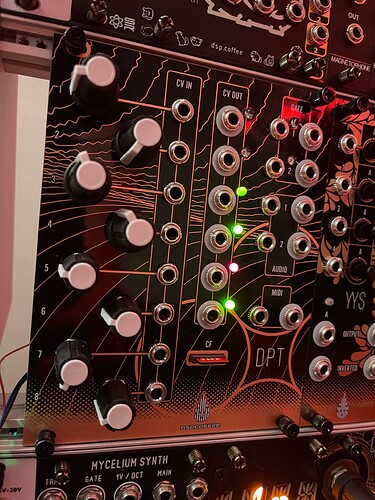 Edit: Note that I'm still shaping up all the libraries for this to use the external DAC optimally and add some hooks for whatever is not already in libdaisy for patch_sm, but development will be pretty active.
Edit 2: After a mixup on another forum want to clarify, this isn't a commercial product. Source files currently being set up here - GitHub - joemisra/dpt: dpt - multifunction electron temple