The project I am working on using the Daisy Seed is a Multi Effect for my very non-standard DIY modular.
I had been looking for a VCA to use in my modular, but since it's mostly a bunch of Arduino Nanos running off of a USB HUB and built on a shoestring budget I was having a hard time finding one. I think I stumbled over the Daisy just looking through projects on kickstarter and thought that it would do the trick at a reasonable price. Of course, once I read up on it I realized it could do much more.
So this is the result of my project so far: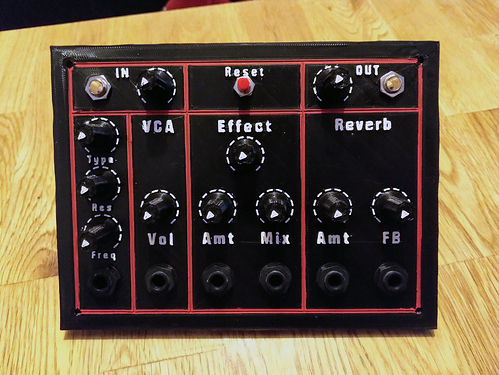 The signal path goes like this:
Input > Variable state filter > VCA > Switchable effect > Reverb > output
Both the input and outputs have volume control.
The Variable state filter can be switched between High Pass, Low Pass and Band Pass.
The switchable effects, right now, are Decimator and Fold but I want to add more soon.
The jacks on the bottom are breaker jacks so I can connect LFOs and the like.
I designed the panel and the knobs in Solidworks and printed them on my Creality CR-10 mini. It's not the best quality printer ever but it does the job and I like the look of it.
Here is a view link to the Code:

If anyone wants to have a look and see if there are any horrible errors or areas of improvement I'm all ears